MASAYOSHI FUJITA + JAN JELINEK
TECH RIDER MASAYOSHI FUJITA & JAN JELINEK
STAGE PLAN: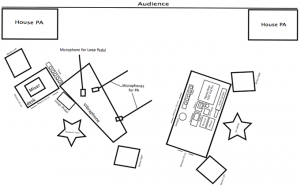 Since their debut 2010 Masayoshi Fujita & Jan Jelinek have played improvised concerts around the world. Japanese vibraphonist Masayoshi Fujita prepares his instrument with various percussion elements as well as metal objects and toys, while Jan Jelinek layers loops made by using small-scale electronic devices.

Masayoshi Fujita & Jan Jelinek have recorded two albums together : "Bird, Lake, Objects" (2010), and "Schaum" (2016).

Their music combines ambient and low tones in an experimental, yet minimalist spirit. A juxtaposition of electronic textures and deep, detailed, subtle instrumental improvisations.